UGFS (Ultrasound Guided Foam Sclerotherapy)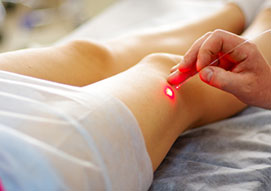 UGFS is a highly specialized procedure and a common treatment for several venous diseases, more specifically to treat varicose veins. The procedure is minimally-invasive performed along with the Venefit procedure (VNUS closure) to shrink the vein to closure.
How Is Ultrasound Guided Foam Sclerotherapy performed?
A cardiovascular specialist like the vein doctors at Venocure are able to perform the UGFS procedure at a vein clinic or facility as an outpatient procedure without the use of anesthesia. Medication is injected into the vein, and using ultrasound technology, doctors can locate the affected vein and injection site. Once the medication is effectively injected into the vein, it will begin to shrink down in size. Patients will notice an immediate relief of physical symptoms after their treatment and the vein will no longer be noticeable under the skin.
Why Choose UGFS?
The advantages of ultrasound guided foam sclerotherapy outweigh the negatives. The non-surgical procedure usually takes half an hour, but the doctor will allocate up to an hour to allow enough time for the ultrasound examination. UGFS provides quick relief from symptoms with long-lasting results and is a safer and more comfortable alternative to surgically stripping varicose veins. The procedure also reduces the health risks associated with blood pooling. Patients are encouraged to avoid exercise post-treatment, but can return to normal daily activity right away and will have very little to no downtime after the procedure. Ultrasound guided foam sclerotherapy is a much more cost-effective option in comparison to stripping veins during a surgical procedure, making it highly accessible to more patients who suffer from the unsightliness and discomfort of varicose veins.
The vascular specialists at Venocure are varicose vein experts and can perform this procedure at either facility in Brownstown or Dearborn. Contact our offices to schedule an appointment with Dr. Nahhas or Dr. Chattahi today!